I already knew that Charles existed before I found this picture, but it was so full of information that it was a welcome find. This came as a picture postcard (the kind people used to send to each other) in this case, presumably as a memento or for those that couldn't attend the funeral. Let's take a look at all of it.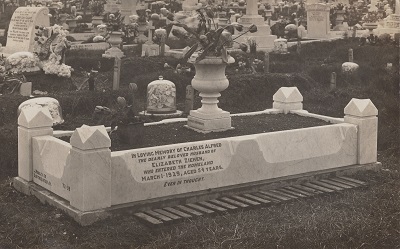 There are quite a few interesting things here that are worth drawing out. This is clearly a beautiful grave, made of marble, and amongst many, many other of similar quality. The wording you can see above is fairly common, but that mention of the "Homeland" does suggest a Jewish link:
IN LOVING MEMORY OF CHARLES ALFRED
THE DEARLY BELOVED HUSBAND OF
ELIZABETH ZIEHEN
WHO ENTERED THE HOMELAND
MARCH 1 1929, AGED 54 YEARS
EVER IN THOUGHT
Now let's take a look at the flowers.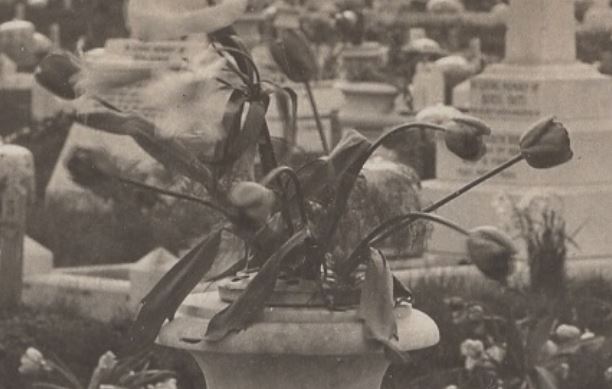 I could be wrong, but I think these are tulips and from the colouring, I would say they were most likely a dark colour such as purple. Tulips are a spring flowering plant and therefore suggest hope and encouragement to the bereaved. Purple coloured ones indicate royalty whereas red represent perfect love - could that be their colour? If you look closely, the flowers are blurred so I think it may have been quite windy when this picture was taken.
There's also something interesting written on the side. Here is where usually you can find the company that made the memorial and the if you are really, lucky, the position of the grave in the graveyard.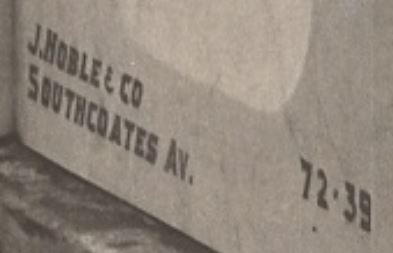 I took a look at Google Maps at what kind of road Southcoates Avenue was and it turned up in Hull which is the right area. It is mostly residential but one or two commercial premises appeared part way down, unless it was a stonemasons at the end? The buildings to the right are very new.
Searching for J Noble & Co wasn't too productive but I did find a C Noble operating as a Stonemason at 8 Regent Street in Kelly's Trade Directory of 1892. Could he have been a father in the same business, but earlier?
How about that 72 . 39? I think 72 is the plot number and I base that on some of the other numbered plots. The next row up is #78 and from there, #84, so moving up in 6s. Could the "39" be a row number or a section? If a section, then this cemetery is BIG in which case, what are our candidates?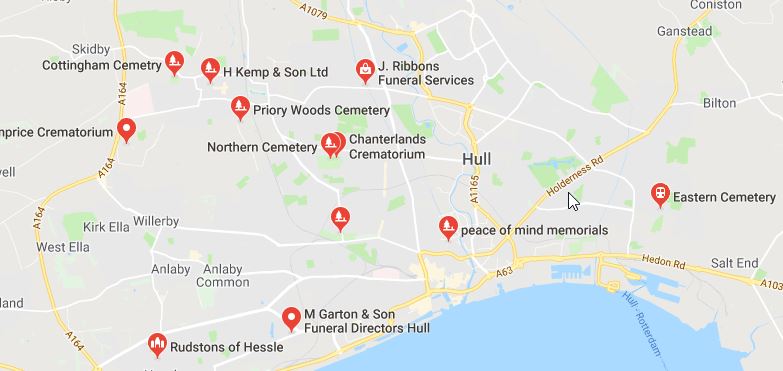 The mouse pointer shows Southcoates Avenue, Hull
Hmm! Quite a few to pick from - this is going to take a while. From what I can tell on Google Maps, The Northern, Eastern and Western (not shown) all look like really good candidates but I can't find anything on FindAGrave or DeceasedOnline…stumped for now.
If anyone can help me track down this grave, please do get in touch.